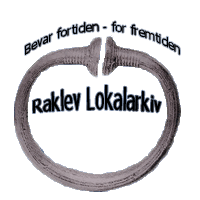 Raklev Lokalarkiv har valgt en edsring som sit logo, da det er det største guldfund, der er gjort i Raklev Sogn. Der er fundet to edsringe i sognet.
Den anden edsring blev fundet ved Gåsetofte under markarbejde af landbrugsmedhjælper Villy Christensen. Den vejer ikke mindre end 333,7 g. og blev anmeldt til Nationalmuseet i 1956 af dyrlæge Arne Stenbæk, Kalundborg. Det er denne ring Arkivet bruger som logo. Edsringe er dateret til bronzealderen 500-800 f. kr. De blev brugt som armringe og ikke, som man oprindelig troede, ringe, man "aflagde ed" ved. Arkivets logo regnes for at have været et høvdingesmykke.
Den første blev fundet ved Nyrup af husmand Anders Jensen. Han fandt den under stenrydning ved et dyssekammer. Den lå i ½ alens dybde, vejer 64 gram og blev indsendt til Nationalmuseet i 1856 af amtsforvalter Schønberg, Kalundborg.